Exhibition
Yoshio Shirakawa "Summer Light"
October 5 - November 10, 2019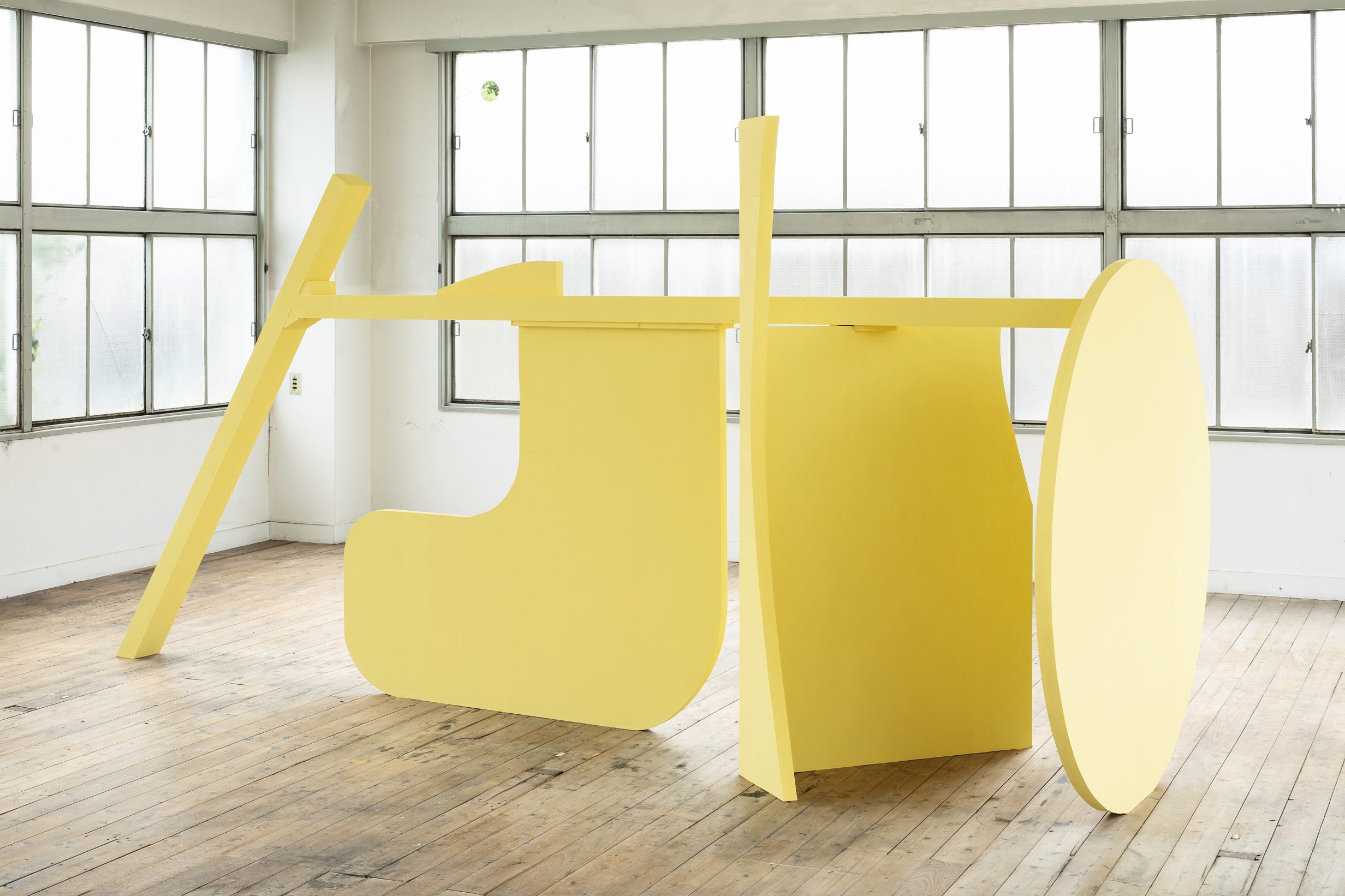 Maki Fine Arts is pleased to present Yoshio Shirakawa's second solo show at our gallery, Summer Light, starting Saturday, October 5, 2019.
—
When Two Lights Intersect–For Yoshio Shirakawa's solo show
By Shinya Sugawara (art critic / theory)
Yoshio Shirakawa's new work "Summer Light" seemed to have suddenly appeared as a tie-in to his "Circle – Sculpture" series from more than two decades ago. To some, his new creation may resemble the modern sculptures made by Anthony Caro 30 years ago. Indeed, Shirakawa's use of a single color on an abstract sculpture as well as his utilization of circular shapes–something frequently seen in Caro's works–are certainly something similar found in the works of both artists. To Shirakawa, however, the circle does not simply represent an abstract geometric form. In 1979, preceding his "Circle-Sculpture" series, the artist had already published a collection of conceptual drawings in Germany in which he had introduced various notions regarding the circular shape.
In addition, unlike Caro's free-from method of casting iron for his sculptures, Shirakawa's "Summer Light" was created using only wood and paint materials that were relatively easy to obtain from DIY home centers. While the restraint on materials was established in part due to the artist's production environment, the matter of using ready-made materials for his work has been seized by the artist as a beneficial opportunity. One may be able to understand the connection between "Summer Light" and his "Coyote" series, shown multiple times at Maki Fine Arts in which Shirakawa utilized reclaimed material for his works. As a result, even if his works look as though they are purely molded abstract sculptures that are independent of reality, their linkage to concept and reality will always remain as something that cannot be fully abstract.
Shirakawa's creations are often classified into two exclusive lines–shaped work or social work. As mentioned before, however, even his works such as "Summer Light" cannot be sorted only as "shaped" or only as "abstract." Perhaps what is requested from us, the viewer of his show Summer Light, is to immerse ourselves in the space where two lights intersect–one emitted from the work "Summer Light" and the other from what would most likely be classified as social work, "Light of Benten Shopping Street"–so we can discover how the two lines found within each work made by Shirakawa coexist.
—
Yoshio Shirakawa
Born 1948 in Fukuoka, Japan, Shirakawa received his MFA from Kunstakademie Düsseldorf in 1981. He has been based in Gunma since returning to Japan in 1983.
Current shows include The Ecology of Expression: Remaking Our Relations with the World (Arts Maebashi, 2019), Weavers of Worlds -A Century of Flux in Japanese Modern/Contemporary Art–(Museum of Contemporary Art Tokyo, 2019), Production Process, (solo, Rin Art Association, 2018), Beyond the future of Meld Sculpture (curation, Maki Fine Arts, 2018), Coyote (solo, Maki Fine Arts, 2017), Contemporary Art in Gunma 2017–Where contemporary art belongs in the community (Museum of Modern Art, Gunma, 2017), Creative Dialogue with Museum 01–MONUMENT (Tottori Prefecture Museum, 2017), Aichi Triennale 2016–A Rainbow Caravan (2016), The Capital Room: Beyond Three Dimensional Logical Pictures–vol. 7 (solo, gallery αM, 2016), and dada, dada, da (solo, Arts Maebashi,2014).