Exhibition
Seia Suzuki "All You Need is Surface"
November 20 - December 19, 2021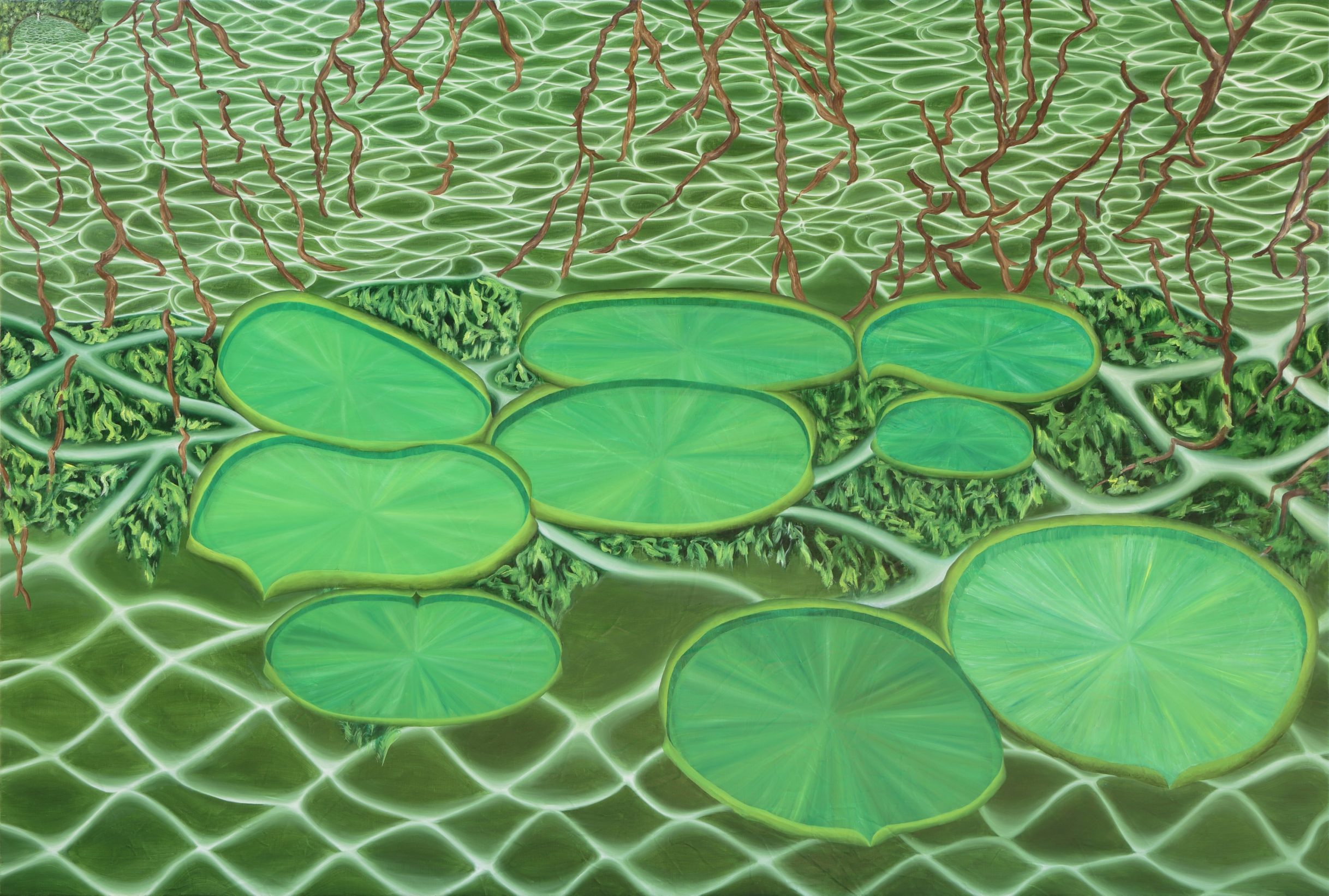 Maki Fines Arts is pleased to present All You Need is Surface, by Seia Suzuki, starting Saturday, November 20, through Sunday, December 19, 2021. In his second solo show with Maki Fine Arts, Suzuki will showcase new works featuring what has been his representational subject matter, water surfaces.
The distortion seen in the sceneries drawn by Suzuki originates from his unique creative process. When scouting existing locations to use for his paintings, instead of taking a photograph, Suzuki opts to capture the scenery using text, jotting down descriptions of what he sees in front of him. He references his written notes to complete his work and skips the step of rough-drafting, choosing instead to start painting onto the canvas right away. When a photograph is used in the process of transforming actual scenery into a two-dimensional surface, that scenery has to be cropped at the moment of capture. Suzuki's method, however, squeezes an already-recorded image into the frame of a canvas as though he is compressing the image while simultaneously painting it onto the canvas. This method aids in bringing out Suzuki's unique perspective, allowing the subject matter to be reshaped at will. In his paintings, the effects of the illusions added to the canvas are bolstered by white mesh lines that portray water surfaces and exaggerated outlines of trees and leaves. Suzuki's continued efforts to create illusions can also be seen in the wrinkles and textures added to the painted surfaces of his recent works.
—
All You Need is Surface
The word 'surface' came up while naming the title for our last solo show, and it seemed very fitting.
I thought that by stepping back from the structure of an object and focusing solely on the surface instead, I could turn it into a painting.
What I am able to see are just surfaces.
Since I cannot see what's inside, all I can do is to imagine.
One can only understand what someone is thinking through its 'surface,' known as words and behavior.
It's as though wide-ranging thoughts are collected into the word 'surface.'
These thoughts reminded me of the song "All You Need Is Love" by the Beatles.
I remember buying the album when I was a kid and listening to the song all the time, but I later found out that there hasn't been a consensus on what the song lyrics mean. We will never know what interpretation is right. All we can do is to image what was going through John Lennon's mind.
Everything is a surface, and the surface is precisely everything.
Seia Suzuki
—
Seia Suzuki
Born 1986 in Tokyo, Japan, Seia Suzuki received his MFA in painting from Tama Art University in 2012 and received the VOCA prize the same year. In order to understand what happens within the painting process, Suzuki takes a creative approach involving writing down the descriptions of actual scenery and then using the text descriptions to paint his canvas. Suzuki's recent shows include Surface 2014 – 2020 (solo, Maki Fine Arts, 2020), TOKYO☆VOCA (group, Dai-ichi Life Group Gallery, 2020), The Painting Sees the World Through My Body (solo, Gallery 16, 2018), project N 62 SUZUKI Seia (solo, Tokyo Opera City Art Gallery 4F corridor, 2015), and Water Surface (solo, Dai-ichi Life Group Gallery, 2015).