Exhibition
Keisuke Shirota "Out of the frame"
March 26 - April 24, 2022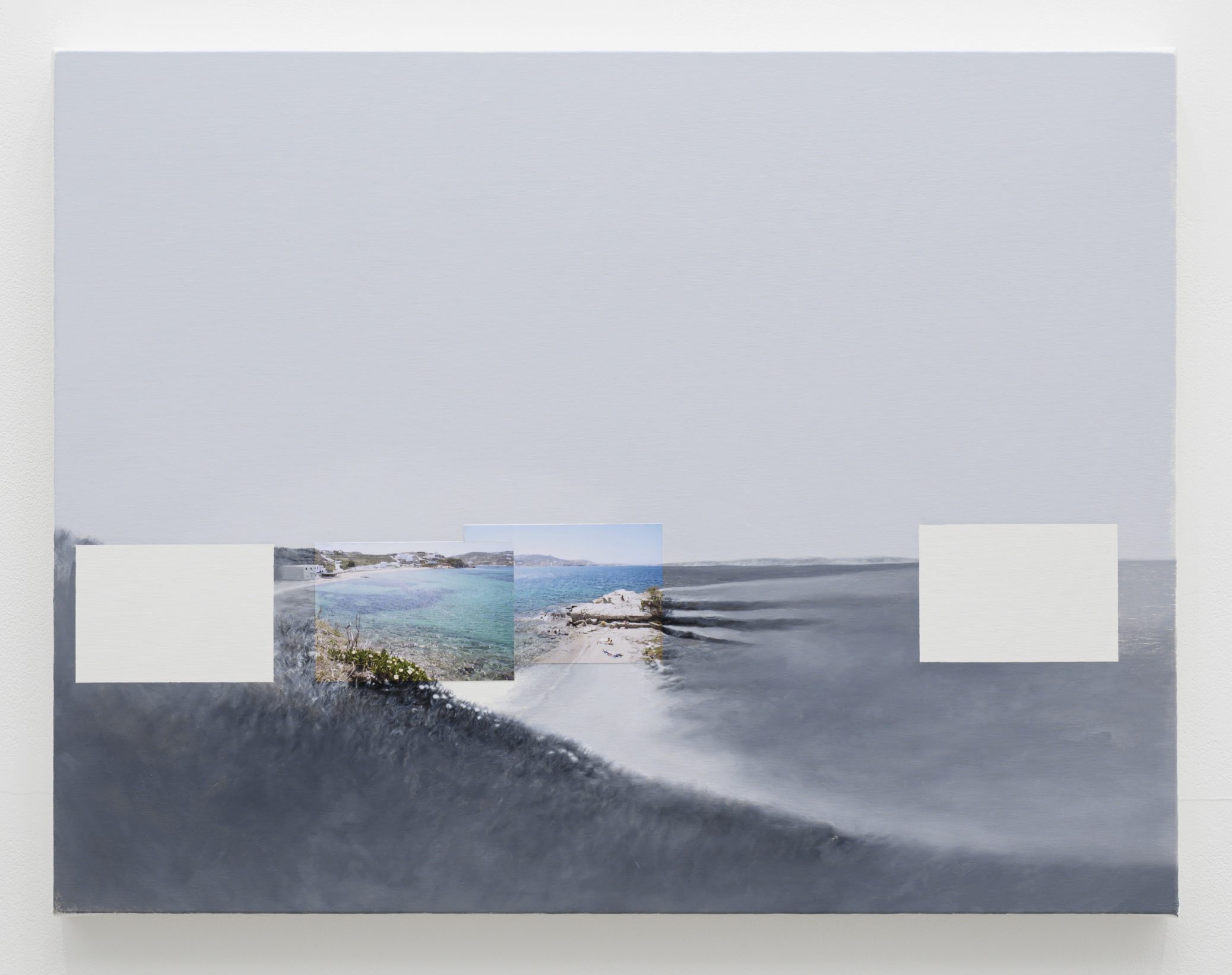 Maki Fine Arts is pleased to present Out of the frame, a solo show by Keisuke Shirota, starting Saturday, March 26, through Sunday, April 24, 2022. Shirota's works combining photographs with paintings have been showcased in numerus shows including PAINT, SEEING PHOTOS at the Chigasaki City Museum of Art in 2019. In his second solo show with Maki Fine Arts, he will present new works that utilize snapshots that have been augmented by painting beyond the borders. His new works are based on his representational work "A Sense of Distance" he began creating around 2003. Misalignments created from overlapping photographs and voids (frames) formed through the drawings make the viewer notice the ambiguity found in the act of looking. At same time, Shirota's works hint at the complex relationship between photography and painting.
—
Out of the frame
One photograph. When staring at a single image, what flickers through my mind is the other possibilities–what ended up outside the frame. Pressing the shutter and taking the photograph is certainly one option. Regardless of the intention–whether it was to record a decisive moment or a boring, ordinary moment in time–unless you chose the path of not documenting the moment, there is no other way but to press the shutter to capture an image. The act of photography, regardless of one's skill level, always involves choosing to frame a certain moment. On the flip side however, doesn't it also simultaneously create numerous un-selected moments and frames? Even with the seemingly unlimited potential to film endless moments courtesy of today's digital devices and smart phones, I am unable to dismiss these thoughts that intensify further. The time I spend looking at the photos seem to double as a time to confront the other possibilities that have spilled over from the chosen option.
The un-captured alternative option. The other could-have-been-selected frame.
As I negotiate with the limit created by the frame of the canvas, I treat the photograph as an access point to the other possibilities, adding brush strokes around it. The more I try to be faithful to the photograph, the tangibility of the gaps between photo and body; photography and painting; and record and memory increase. It goes without saying, the field that was drawn is only one possibility out of an infinite number of possibilities.
Kaisuke Shirota
—
Keisuke Shirota
Born 1975 in Kanagawa, Japan, Shirota received his M.F.A from Tokyo University of the Arts, Department of Design in 2003. His recent exhibitions include Over (solo, Maki Fine Arts, 2021), PAINT, SEEING PHOTOS (solo, Chigasaki City Museum of Art, 2019-2020), Tracing / Background (solo, Base Gallery, 2013), Shell Artist Selection (The National Art Center, Tokyo, 2013), Photo Reference: Photographic Image in Contemporary Japanese Art Practices (Belgrade Cultural Center, 2012), and his solo show at Galerie Stefan Röpke (2010).