Exhibition
Keisuke Shirota "Over"
January 8 - February 7, 2021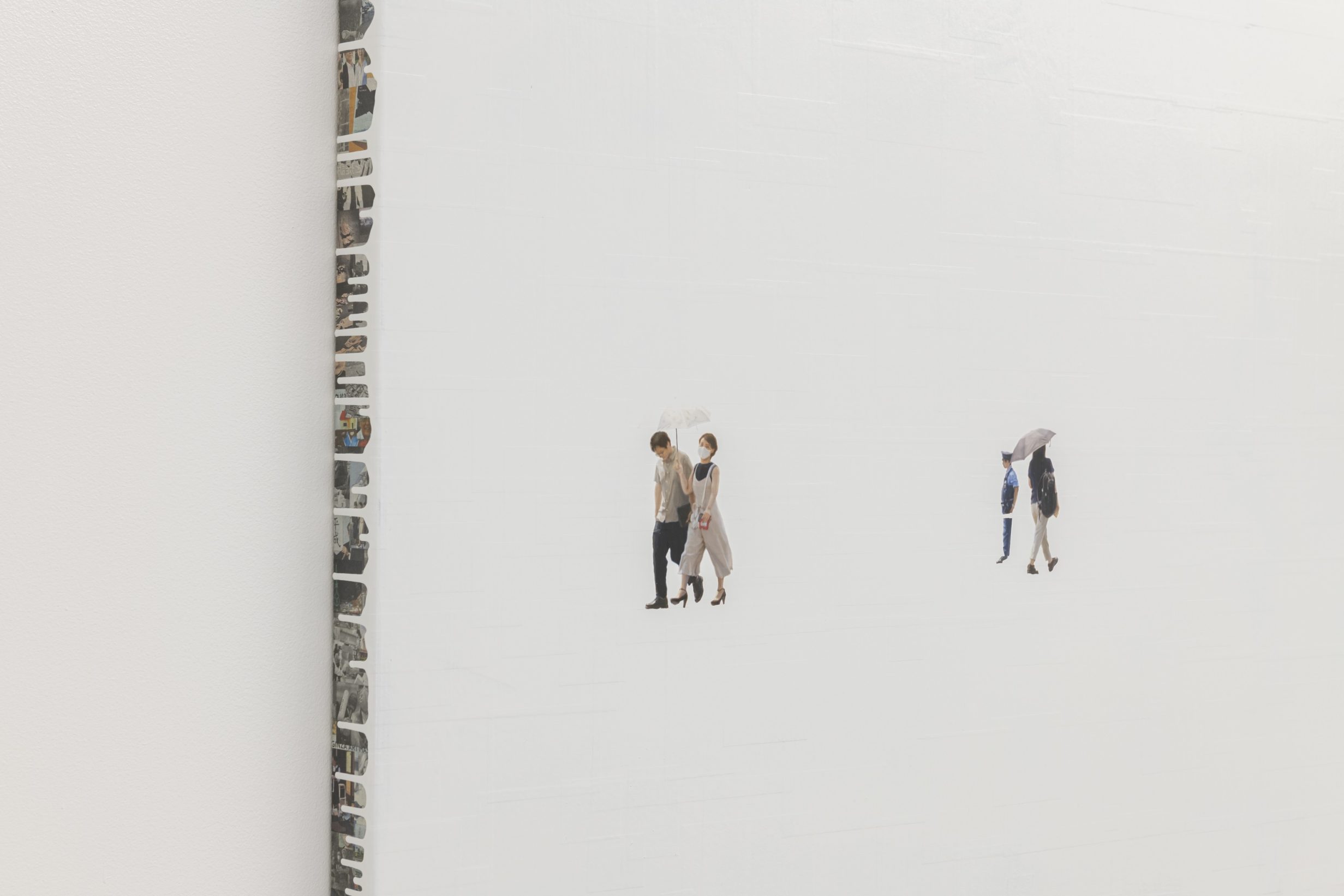 Maki Fine Arts is pleased to present Over, a solo show by Keisuke Shirota, from Friday, January 8 through February 7, 2021. Shirota's works combine photo snapshots with paintings, sometimes drawing fictional images beyond the borders of the photograph and sometimes erasing just the people captured in environmental photos by painting over them. His works have recently been exhibited in his solo show PAINT, SEEING PHOTOS at the Chigasaki City Museum of Art (2019-2020). In Shirota's first show at Maki Fine Arts, Over will focus on the artist's new works.
Shirota's depictions use photographs as medium and are constructed through additions, subtractions, or transfers. For additions, fragments of an image are added. For subtractions, the fragments are eliminated. And for transfers, parts of other materials are copied. In his new work "August 15, 2020 (Nijubashi Bridge)," only the tourists are depicted on the canvas after their images have been selectively extracted from photographs capturing scenes of the Nijubashi Bridge. For the base, photo clippings from several newspapers dated August 15, 2020 have been plastered onto the support medium and painted over with white paint. At close examination, traces of the newspaper layers are visible from the sides.
In the age where photograph and image are often thought as synonymous and the definition of photograph blurred due to the prevalence of social media, Shirota provokes the viewer to look at the substance of the photograph through the process of drawing.
—
To pay close attention to both the excessive image information–which can never be thoroughly seen–as well as the single image.
To realize that while the front of a photograph is full of substantial information, the back is completely blank.
To bring out what could not be seen through structure.
To recognize that the act of painting and drawing are akin to the act of erasing and concealing.
To understand that the plus and the minus progress simultaneously.
These were the things that were especially important to my creative process during the past year.
Keisuke Shirota
—
Keisuke Shirota
Born 1975 in Kanagawa, Japan, Keisuke Shirota received his M.F.A from Tokyo University of The Arts, Department of Design in 2003. His recent exhibitions include PAINT, SEEING PHOTOS (solo, Chigasaki City Museum of Art, 2019-2020), Tracing / Background (solo, Base Gallery, 2013), Shell Artist Selection (The National Art Center, Tokyo, 2013), Photo Reference: Photographic Image in Contemporary Japanese Art Practices (Belgrade Cultural Center, 2012), and his solo show at Galerie Stefan Röpke (2010).