Exhibition
Alex Dodge "The Trauma of Information"
March 23 - May 5, 2019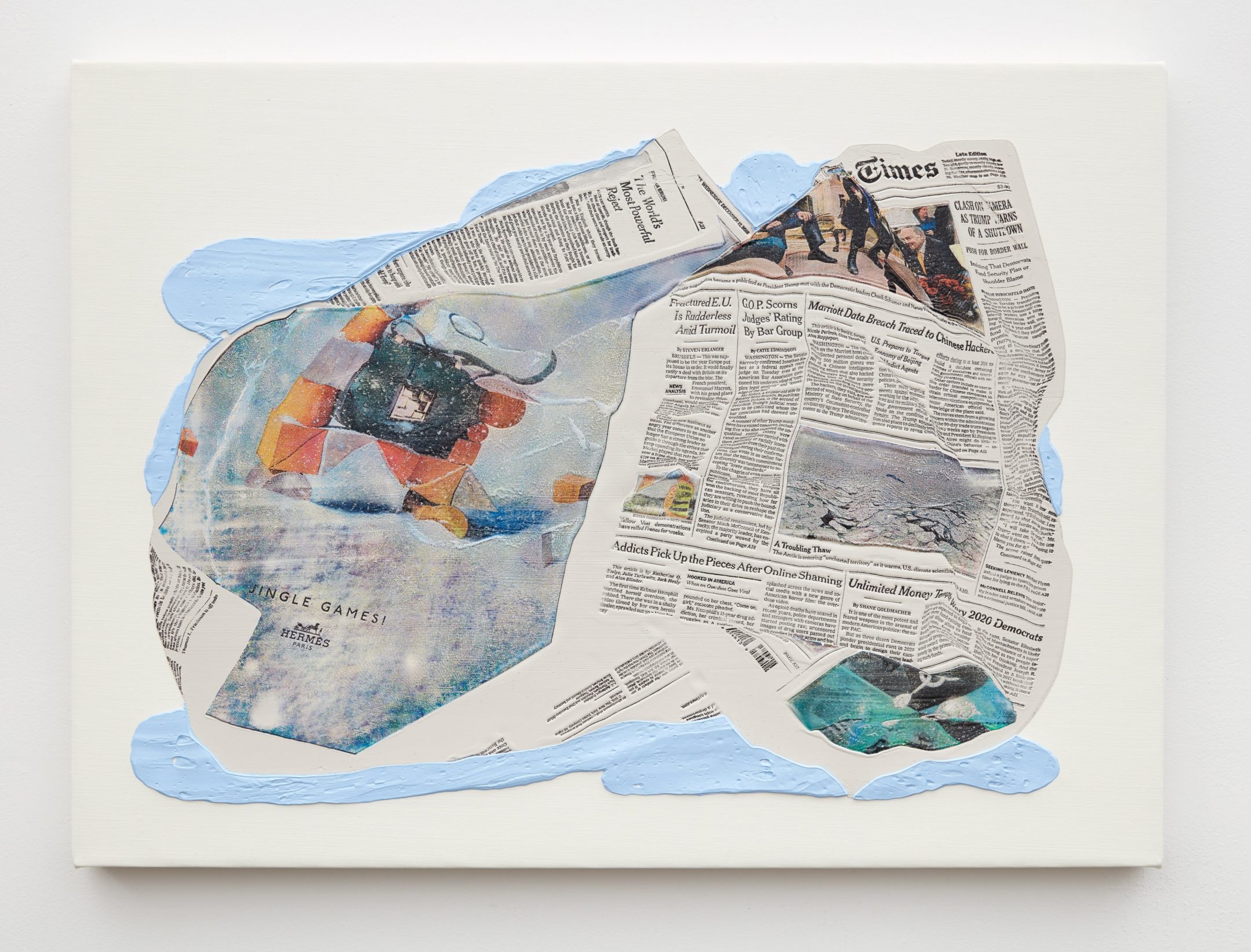 Maki Fine Arts is pleased to present The Trauma of Information, a solo show by New York-based artist Alex Dodge, starting Saturday, March 23, 2019. In his first solo show in Japan, Dodge will showcase new paintings, bringing The New York Times into play as the central theme.
Alex Dodge has been creating works that blend progressive digital tools with classical techniques. Making full use of digital 3D modeling, Dodge begins his process by generating three-dimensional images to use as the foundation of his works. He then utilizes technique such as laser-cut stenciling and wood-block printing to create richly-textured surfaces produced with thick paint layers. His unique work style came from his strong interest and examination into traditional techniques like the Japanese craft of stencil dying. Through his works, one can see how his creations have evolved: from skillfully-manipulated digital data transformed by way of traditional techniques, to new-dimensional paintings that transcend existing formats.
Works showcased in The Trauma of Information emerged from the artist's experience of living in Japan during the 2016 U.S. presidential election, including the trauma he suffered watching and reading the information spread by the news media. The Trauma of Information hints at the uncertainty of the current state of media as a whole and examines our media literacy in a time when massive amounts of information get consumed and renewed on a daily basis.
Alex Dodge
Born 1977 in Denver, Colorado, Alex Dodge currently lives in Brooklyn, New York. Recent shows include Programmed: Rules, Codes, and Choreographies in Art, 1965-2018 (group, Whitney Museum of American Art, New York) and Whisper in My Ear and Tell Me Softly (solo, Klaus von Nichtssagend Gallery, New York). His works have been added to collections at The Museum of Modern Art, Whitney Museum of American Art, The Metropolitan Museum of Art, and the Museum of Fine Arts, Boston.
–
The Trauma of Information
Alex Dodge
The place of origin for these work was in some ways Japan. I was living in Tokyo for 4 months during my fellowship with the Japan US Friendship Commission and Bunkacho. I had set up a small studio to make work and during that time the 2016 US presidential election took place. I overheard another American living in Japan at the time describe the sensation of watching the election unfold as if witnessing a nuclear war happen while aboard the International Space Station. Seeing what felt like absolute destruction taking place but from the safety of a remote
location; feeling utterly powerless to do anything but watch from afar as the planet destroyed itself. Though I have many great friends in Japan, it was difficult to find those that I could commiserate with or express the feelings of sorrow, grief, and sense of uncertainty for what laid ahead back home. All I could do was watch and read the ceaseless engine of news media in hyperdrive trying to reconcile the new political reality.
After returning home to New York, the familiar Brooklyn that I knew felt washed in gray, heavy, and defeated. Within the new dismal cloud, the news became like an addiction that, however painful it was to consume, could not be resisted. There is often a sense of powerlessness that we feel in its rapid and unending stream; one headline overtaking the previous for attention with greater urgency and sensation. In my opinion the current pace of media and perhaps its quality has created a kind of time dilation to occur in how we experience our world. The sheer volume of daily information that we consume affects our ability to build a considered long term perspective. Our memory is not what it used to be. Though the internet can be like an archive in which past events can be referenced and checked against the present, it's also like a dynamic living organism that shifts and folds, often obscuring or distorting our view of recent history through personalized search and social media.
These works sought to take hold of the news in a form that could be solidified; made material and static. These fleeting moments are grasped in the form of reproductions of physical newspapers, a form of media currently in decline, but one that I hope never goes away. I cherish the tactile paper and printed media of this antiquated format. These newspapers that have become thick layered oil paint are often depicted as they might appear after someone has read them; cast aside or disposed of, thrown away or recycled along with our memories of their contents. These paintings make the ephemeral and momentary into solidified hard to dismiss artifacts through painstaking reproduction and transformation into another medium. Each is unique, created using a system of block printing and hand applied oil paint. The glimpses of content that they reveal in broken text and image are often mundane in their parts but as a whole can offer a unique reflection of the time we live in; at times that view is global and at others deeply personal.
This ongoing series is an homage to a media in pain and which also pains us. It is the trauma of information that can only be survived with perspective; a perspective gained through a humor and irony that makes the pain and sorrow bearable but not forgotten.